(রয়েল পাস অর্ডার করার সময় অবশ্যই আপনার গেম আইডি Additional information মধ্যে প্রদান করুন)
(Be sure to include your Game ID in the Additional information when ordering Royal Pass)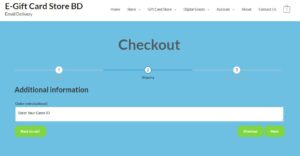 How to Buy Royale Pass
To purchase Royale Pass in PUBG Mobile, you need to have at least 600 UC for the Elite Pass and 1800 UC for the Elite Pass Plus. Click here to top up or proceed to the steps below if you have enough UC.
Open PUBG Mobile on your smartphone.
Click on the RP section located in the upper right corner of your screen.
Click the Upgrade Pass button in the lower right corner.
Select between the two variants of the Royale Pass (Elite Pass or Elite Pass Plus).
Click on Purchase and complete the payment.
Upon completing the payment, UC (Unknown Cash – the in-game currency in PUBG) will be deducted from your PUBG Mobile account and the Royale Pass will be credited to you. It's that simple!
About the Game
ABOUT MIDASBUY PUBG GIFT CARD
PlayerUnknown's Battlegrounds, also known as PUBG, has become really popular among potential players after the development of super fun video games, Battle Royale video games, which have been quite popular in recent years. While the game was mainly developed for the PC platform, the mobile version of PUBG has become one of the most preferred and loved games on mobile devices.
ABOUT PUBG (PlayerUnknown's Battlegrounds) MOBILE
PUBG or PlayerUnknown's Battlegrounds mobile version is available for both Android and IOS devices. PUBG quickly became extremely popular with the game being downloaded and played by potential players on both Android and IOS.
DOWNLOAD YOUR PUBG GIFT CARD CODE
You can fill in your PUBG Gift Card UC code at your midasbuy account to top up your midasbuy account, enter your player ID and PUBG code then 'OK' to activate your UC code.
INSTANT DELIVERY VIA EMAIL
Our potential customers can enjoy instant email delivery of Gift Card codes. You can start discovering the exclusive features of your package without wasting time.
REGIONAL RESTRICTIONS
Note that your account location must match the location of the gift card you want to avoid any inconvenience, make sure your location matches the region where the Gift Card code is located.